I'm heading out for a string of presentations and workshops – hope to see old friends and new!
ICE 2018 – Feb 26 (Chicago) I'm part of an "All-Star" lineup of presenters who are participating in the Illinois Computing Educators conference. Instead of one keynote they are bringing back keynotes from previous years to do panels and featured presentations. It's a bit embarrassing to call yourself an "All-Star" but that's their term, not mine! Check out the whole list and join us!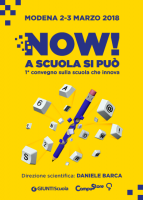 Then I'm flying straight to Italy where Gary Stager and I will keynote a School Innovation conference in Modena and lead a workshop in Bologna on March 2 & 3. Then we hit the road (by train) for lectures at Universities in Padua, Vicenza, Venice, and Pistoia. Finally a roundtable at the U.S. Embassy in Rome with an innovation policy advocacy working group.
Oh, and in between I'm flying to Valencia, Spain to keynote a conference there! INTED 2018 will be March 5-7 and I'll be keynoting on March 5.
SaveSave